Yes I know I'm so fucking original because the title is in Spanish since I'm from Argentina. yaaaay.
Ummmm...okay, first of all, I've never liked introductions since I'm kinda shy but once you get to know me and I feel comfortable with you I get all crazy and shit(?)
So...well, I speak Spanish, obviously, and English (YOU DON'T SAY?); I know a bit of French and Latin because we have those classes at school, and I want to learn German :'D
oh, yeah, umm, i'm 15 (though my profile already says so) and my birthday is February 11th. OH, AND MY NAME IS BIANCA AND I'M A REDHEAD BUT NOT A GINGER(you see I totally fail at this introduction thing asjfh)
Annddd...let's see...oh, yeah, I started editing around 2006/2007 with WMM and Teen Titans :'D (ooh, those memories~), and started using Sony Vegas in 2009 with South Park. And now I mostly edit with Hetalia fanart but sometimes with anime clips too (I like a lot; some examples are Toradora, No 6, Elfen Lied, Death Note -though mostly the manga-, Pandora Hearts, Durarara, etcetc).
But stop there, cowboy! I like live-action stuff, too. Actually, I have two YT accounts (and a backup); sxrlove06 is for anime stuff, and the most recent one, LowSodiumFreaks, for live-action series. I love love LOOOOOVEKJFHGSF
Supernatural
, and I'm also obsessed with
Doctor Who
and
Sherlock
(and I also like watching movies very very much).
Even though it may seem like it, being on the computer scrolling down my Tumblr dashboard (immorethansilver is my username) is not the only thing I enjoy doing. NO, I DON'T LIKE SPORTS, EW. I SUCK AT THEM AND I'D RATHER NOT MOVE. But I play the piano and sing and draw and read
Sooooooooooooooooooo....i think i may be making this too long. i'm stopping right now so that you don't get bored. yeah. yeah, i'll do that. stop. now. bianca. stop typing. i mean it.
now
.
Here, have a picture of my brother enjoying a lollipop.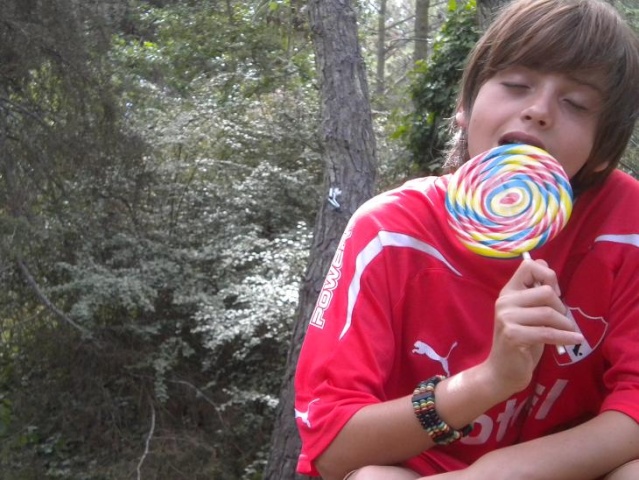 oh mai Roma. xD That's all I have to say. Random ending picture, LOL.

Apples

Admin




Posts

: 134


Join date

: 2012-01-03


Age

: 23


Location

: United States



omg that picture u__u
Is it weird that it's sexy finujikrdfcjgnkjdf
LOOOOOOOOOL
It's okay, he's your age, Kathy xD
why.could.i.tell.it's.your.post.by.the.title.alone
YOU SHOUT TOO MUCH
AND IT'S CONTAGIOUS
IF WE EVER MEET WE SHOULD DO IT AT A REMOTE ISLAND OR SOME ABONDENED AMUSEMENT PARK
OTHERWISE WE'D ANNOY THE HELL OUTTA EVERYONE AROUND

OMG WHY DID I NEVER KNOW YOU'RE A REDHEAD
MY HANDS ARE NOW GLUED TO YOUR HAIR

OMG BBY COME HERE I'LL GIVE YOU A HUG SPORTS SUCK WHY DOES IT EXISTS CAN'T WE ALL JUST EXERCISE ON TUMBLR

also, did you make sure to get your brother's aproval of distributing him enjoying a lollipop?

Irosama




Posts

: 5


Join date

: 2012-04-15


Age

: 25


Location

: Moscow, Russia



OH MY GOD ILONA HHAHAHAHAA YOU KNOW ME TOO WELL
AND UGH TOTALLY; PEOPLE WOULD THROW ROCKS AT US OR SOMETHING

YOU DIDN'T KNOW???? WOAH OH WELL YOU DO KNOW
AAAAAAAAAAAA I'VE GOT HANDS IN MAH HAIRRR/shot

*HUGHUG* IKR TUMBLR SHOULD BE CONSIDERED A SPORT

and nooooooooope. so shhh (◕‿◕✿)
---
Permissions in this forum:
You
cannot
reply to topics in this forum